Apr
30
Thu
2020
Monkey Mania – postponed new date after Easter

@ Hot Rat Mc Clubhouse
Apr 30 @ 10:00 am – May 31 @ 5:00 pm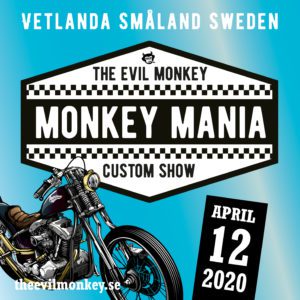 Custom Show with choppers, bobbers, vintage bikes, Hot Rods, muscle cars and old pick up trucks at the outside and if the weather allows it.
Awards for Best Bobber, Best Chopper, Best Vintage Bike and Best in Show – Peoples Choice.
We appreciate customized wheels built to ride, new builds, restored ones and the ones with awesome patina.
To enter as an exhibitor please send a mail to info@theevilmonkey.se with a picture of your bike. The Exhibitor limit is reached and we cant accept more bikes unless we get a cancellation. Apply at info@theevilmonkey.se and we put you on our waiting list.
We have no possibilitys to pay for gas or hotel but we will make sure you wont be hungry and that you have a great stay and chance of winning some killer awards. If you need hotel we have a special price at Centralhotellet Vetlanda with code Hot Rat.
According to the health regulations of the Corona virus, we will make sure that we wont be more than 500 people at the event. Are you feeling ill, please stay home.
May
28
Thu
2020
Cancelled due to the corona – FH-DCE Super Rally Sweden 2020

@ Lundegårds Camping & Stugby, Öland.
Allt efter som vi närmar oss FH-DCE Super Rally ® så kommer vi uppdatera sidan med till exempel vad som kommer ske under FH-DCE Super Rally ® , vilka band som kommer spela, vad kommer en öl att kosta och andra viktiga spörsmål i livet…
Däremot så vill göra dig uppmärksam på att det snart är möjligt att boka stuga på campingområdet!
Välkommen att boka stuga på campingområdet från och med den 1 oktober 2019 kl.10:00. Du bokar ditt boende endast via denna länk: www.lundegard.se/super-rally-2020
Tänker du tälta behöver du inte boka någon plats. Det kommer finnas utrymme för alla. För att boka boende utanför träffområdet, vänligen klicka in på www.oland.se/sv/bo
Varmt välkommen till FH-DCE Super Rally ® 2020!
Med vänlig hälsning
Robert Bodin
President
Harley-Davidson Club Sweden
——————————————————————————
Welcome to visit our FH-DCE Super Rally ® homepage!
We will soon update the website with things about what will happen during the FH-DCE Super Rally ®, for example which bands will play, what is the price of the beer and/or other important things in life…
However, please note that it is soon possible to book a cottage in the camping area!
Welcome to book a cottage in the camping area from 1 th of October 2019 at 10:00. You book your accommodation through this link www.lundegard.se/super-rally-2020
If you stay in a tent there is no need for booking a site. There will be plenty of space for everyone. To book accommodation outside the area, please click on www.oland.se/en/bo
Welcome to FH-DCE Super Rally ® 2020!
Best regards
Robert Bodin
President
Harley-Davidson Club Sweden