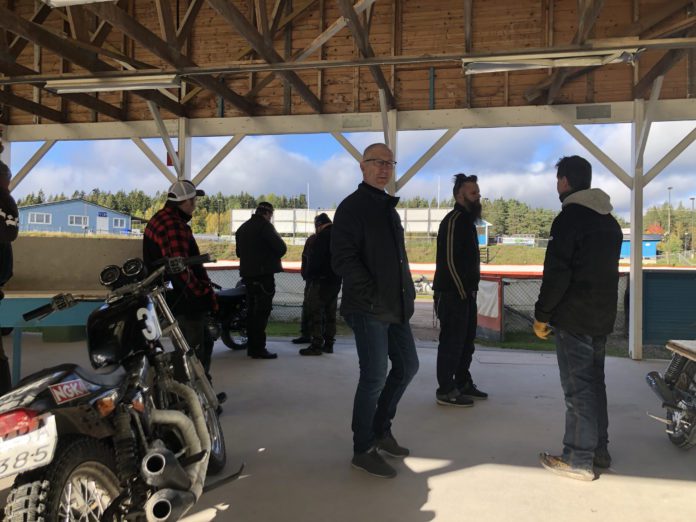 Det är nu mindre än ett dygn tills Motorstadion i Vetlanda fylls med rariteter på två hjul och vi har ännu ett gäng kvar att presentera, en av de tre sista nytillkomna i årets race är Ronny "max tre kick" Karlsson. Medlem i Hot Rat mc även han, åkte han med i Sportsterfebern i höstas, men till skillnad från de flesta andra blev det en järnsportster, med tillhörande kopplingsmek. Nu verkar Ronny ha fått ordning på både koppling och framhjulspunka.
Jo det var det han fick när det anordnas backrace här i faggorna för några veckor sedan. Men ett par varv på bana har han hunnit med och efter intensiv snabbträning följde en vecka av tung träningsverk och insikten om musklers existerande i en annars livsnjutande kropp.
Nu är dock både cykeln och Ronny i bättre form än på länge och med Hot rats kanske tyngsta kickben tror vi nu att även vänsterfoten med tillhörande släpsko, kan bli ett vapen i kampen om sekunderna.
Vi önskar Ronny varmt välkommen in i rejset och vi är säkra på att han inte kommer spara på krutet när det väl gäller!!!
It is now less than a day until Motorstadion in Vetlanda is filled with rarities on two wheels and we have another bunch left to present, one of the last three newcomers in this year's race is Ronny "max three kick" Karlsson.
He is also a member of Hot Rat mc, and he took part in the Sportster fever last autumn, but unlike most others, he bought an ironhead, with associated clutch problems. Now Ronny seems to have gotten organized on both clutch and front wheel flat tyre.
Well that was what he got when a hill race was arranged here in the hood a few weeks ago. But he has had a couple of laps on the track and after intense practise followed a week of heavy sorness and the realization of the existence of muscles in an otherwise life-enjoying body.
Now, however, both the bike and Ronny are in better shape than in a long time and with Hot rats perhaps heaviest kick leg, we now believe that even the left foot with the accompanying hot shoe, can become a weapon in the battle of the seconds.
We wish Ronny a warm welcome into the race and we are sure that he will not save on rpms when its race for real !!!