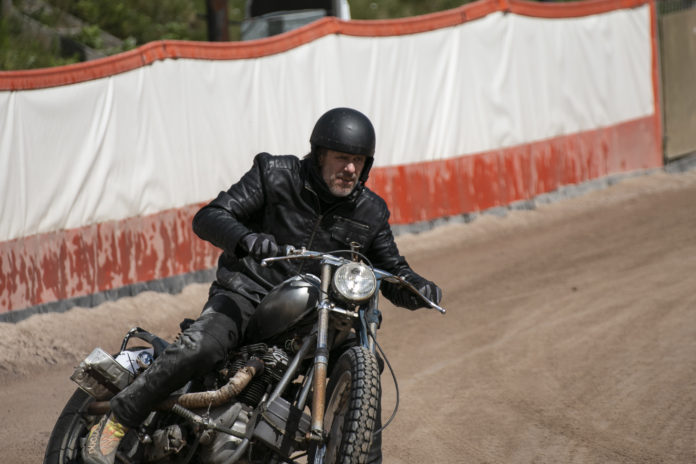 Det var länge osäkert om vi åter skulle få se Axel på årets Trotteln i Taket den 30 juli. Bara några veckor efter fjolårets race blev hans superskönt patinerade TriBsa stulen av alltför klåfingriga korkskallar, men efter ett massivt uppbåd med massor av människor som letade och kanske nån som ställde upp och rappade röven på dom, kunde Axel hämta hem sin älskade cykel igen. Bensintanken var borta, men det var kanske dags att byta ut den, för det är nog inte bara undertecknad som minns att Axel fick parkera utanför depån ifjol…
Axel precis som några få till i årets race är gammal speedwayförare, fast Axel är fortfarande aktiv och en fena på att köra lugnt med ställ.
Ett slitet bakdäck sägs vara tricket, och om vi hade delat ut stilpoäng var Axel förra årets vinnare! Vi är redigt glada att få se Axel och hans gamla trotjänare på banan i år igen och går det som tänkt får han även han stå i depån i år.
Välkommen tillbaka!
It was for a long time uncertain whether we would see Axel again at this year's Trotteln i Taket on July 30. Just a few weeks after last year's race, his awesome patinated TriBsa was stolen by overly clumsy dick heads, but after a massive line-up with lots of people looking for the bike and maybe someone who lined up and kicked their asses, Axel was able to pick up his beloved bike and bring it back home again.
The gastank was gone, but maybe it was about time to replace it anyway, because it is probably not just the ediotor who remembers that Axel had to park outside the pit last year …
Axel, just like a few others in this year's race, is an old speedway riderr, although Axel is still active and a extremley good sliding in slow motion.
A worn rear tire said to be the trick, and if we had handed out points of best style, Axel was last year's winner!
We are quite happy to see Axel and his old faithful servants on the track again this year and if it goes as planned, he will also be able to park in the pit this year.
Welcome back!