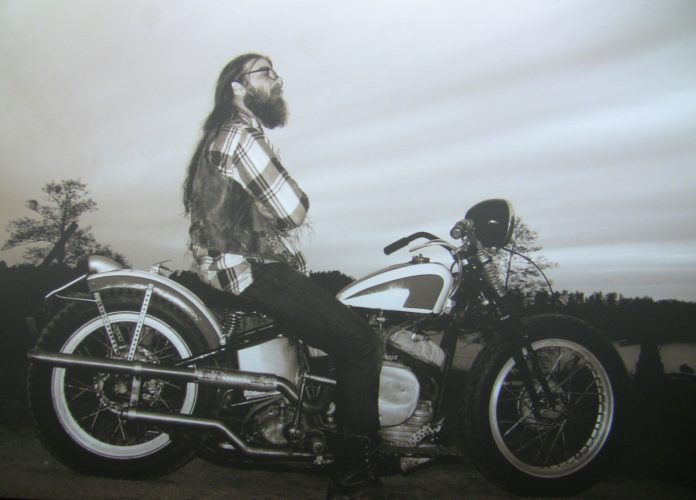 I den andra förarpresentationen fortsätter vi på inslagen bana och denna gång handlar det helt enkelt om ett hjälpmedel man kan behöva efter en vurpa.
Magnus "Kryckan" Gunnarsson som vår näste förare heter är sen 90-talet hemmahörande i Laholmsavdelning av klubben Höks. Klubben är inte är helt okända för för att gilla att vrida på gashandtaget bland annat genom sina stubbrejs mellan gasglada medlemmar och andra inbjudna dito kamrater.
Magnus eller "Kryckan" är en man i sina bästa år och har mer eller mindre kört cross i 36 av sina 46 år. Magnus meddelar att han aldrig kört rundbana men att han är riktigt sugen på att testa. Faktum är att han var anmäld redan förra året men fick ett par veckor innan start lämna walk over efter att ha brutit armen på crossbanan.
Det är lätt att misstänka att Kryckan valt en ändamålsenlig ombyggd cross av tidig årsmodell för Trotteln i Taket, men istället tillhör han gänget som tar sig an grusbanan riktigt ståndsmässigt på en 1450cc strokad storsida från 1947. Kryckan meddelar vänligt men bestämt att han inte är intresserad av Sportsterklassen, utan kommer givetvis köra den öppna, gammelhojsklassen.
In the second rider presentation, we continue at the same track and this time it is simply about an aid you may need after a crash.
Magnus "Kryckan" (Crutch) Gunnarsson as our next driver is called has been a member of the Laholm department of the club Höks since the 90's. The club is not entirely unknown for their habit of turning the throttle, among other things, through their stump race between members and other invited ditto comrades.
Magnus or "Kryckan" is a man in his best years and has more or less run motocross for 36 of his 46 years. Magnus announces that he has tried a an oval dirt track before, but is really eager to test. In fact, he was registered already last year but had to leave walk over a couple of weeks before the race after breaking his arm at the cross track.
It's easy to suspect that "Kryckan" has chosen a purposefully rebuilt motocross of some kind of early year model for Trotteln i Taket, but instead he belongs to the gang that attend the dirt track with grace on a 1450cc stroker Flathead from 1947. "Kryckan" kindly but firmly announces that he is not interested in the Sportster class, but will of course run the open, vintage class.