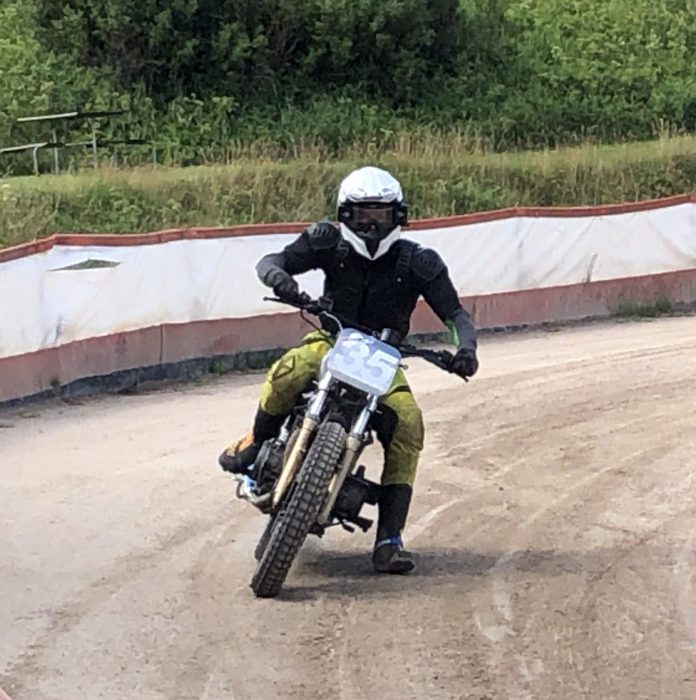 Näst sist ut av nykomlingarna är en lokal förmåga som verkligen gillar att gasa. Vad vi tror ligger det en hel del endurotimmar i cv:t vilket gör att det inte är fråga om tre-fyra varv på träningarna.
Martin Trofast siktar på att köra pro 450 under Monkey Race Days så Trotteln är vad vi tror en liten uppvärmning för den högt siktande förare.
Till vardags är Martin brandman, vilket i förlängningen innebär att han är, förutom i sin verkligen bästa år, också extremt vältränad med garanterat startlistans bästa kondition.
Om det i slutänden kommer räcka emot betydligt mer rundbanerutinerade förare återstår att se, men det är definitivt en flattrack-förare att hålla ögonen på framåt.
Vi önskar Martin varmt välkommen in i matchen och lovar att hornen kommer växa ännu mer på startlinjen…
The second to last of the newcomers is a local ability who really likes to hit the throttle. What we think he has a lot of enduro hours in the CV, which means that it is not a question of three or four laps when practise.
Martin Trofast aims to ride pro 450 during Monkey Race Days so Trotteln i Taket is what we think a little warm-up for this high-aiming rider.
In everyday life, Martin is a firefighter, which in the long run means that, in addition to his really best year of life, he is also extremely well-trained an probably in best condition of all riders in the race.
Whether that will ultimately be enough for significantly more oval race-experienced riders remains to be seen, but it is definitely a flat-track rider to keep an eye on going forward.
We wish Martin a warm welcome into the race and promise that the horns will grow even more on the starting line …