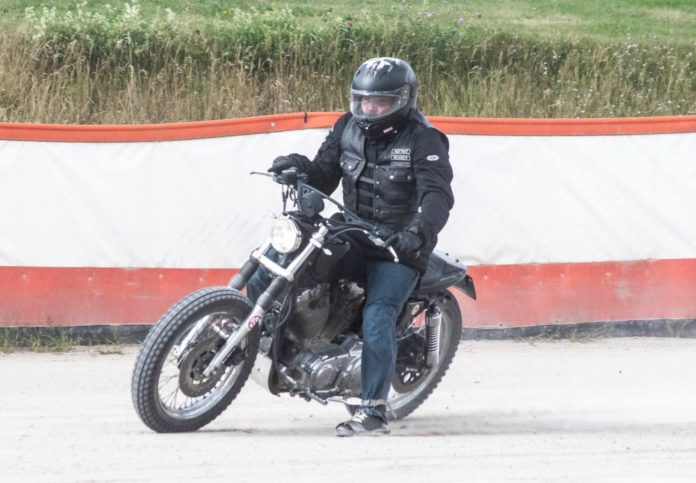 I klubben Hot Rat mc som för övrigt samarbetar med tidningen under det gemensamma namnet A Weekend of speed, finns en hel del dolda talanger när det gäller å gasa sig runt en speedwayoval. Åravis som läktarförare på elitspeedway och metanol i generna kan vara förklaringen.
Näste förare är definitivt en av det nu i klubben kallar för Speed division. Micke som inte deltog förra året, kände suget och åkte och köpte sig ett riktigt flat trackbygge. Han har dock inte hunnit med mer än ett par träningar, men vi tror det spelar mindre roll för denne gasglade kille. Snabba bilar, snabba hojar är lite av ett signum för Micke och runbanekörning är inget undantag.
Att Micke tillsammans med resten av deltagande förare från Hot Rat utgör ett helt lag i Trotteln är inte konstigt, det liksom smittade av sig efter förra året och vi kan nog nu stolt säga att Vetlanda har kanske absolut flest Flat trackers i Sverige i alla fall på en och samma ort.
Dock vill vi påminna om att Trotteln handlar om att ha kul inte att vinna…
Vi är jäkligt glada att Mickes fru Malin, puschade Micke till beslut så att vi får ha honom på startlinjen i årets Trotteln. Varmt välkommen in i rejset, nu jävlar ska det bli grusprut.
In the club Hot Rat mc, which by the way collaborates with the magazine under the common name A Weekend of speed, there are a lot of hidden talents when it comes to race around a speedway oval.
Years as a grandstand rider on elite speedway and methanol in the genes may be the explanation.
The next rider is definitely one of what the club now calls the Speed ​​division. Micke, who did not participate last year, felt the urge and went and bought himself a really flat track bike. However, he has not had time for more than a couple of training sessions, but we think it matters less to this speed freak. Fast cars, fast bikes are a bit of a sign for Micke and dirt track is no exception.
That Micke together with the rest of the participating riders from Hot Rat make up an entire team in Trotteln is not strange, it kind of spread after last year and we can probably now proudly say that Vetlanda has perhaps most Flat trackers in Sweden at least on one and the same place.
However, we would like to remind you that Trotteln is about having fun not to win …
We are damn happy that Micke's wife Malin, pushed Micke to a decision so that we can have him on the starting line in this year's Trotteln. A warm welcome to the race, gravel spray it will be, damn it.